Pico scene keypads
Lutron, Lutron RA2 Select
Details
Enquire
Scene keypads are available engraved with common scenes, for typical activities in your home. They automatically configure for the room type and type of fixtures in the room.
You can also customize a Pico keypad with scenes you create to suit your lifestyle. And you can easily change scenes whenever you want.

Control lights, shades, and audio. These keypads are available pre-engraved with common scenes for typical activities in a home. They autoconfigure in the Lutron App for Caséta and RA2 Select, saving you time, and can be easily configured in the app to personalize for the homeowner.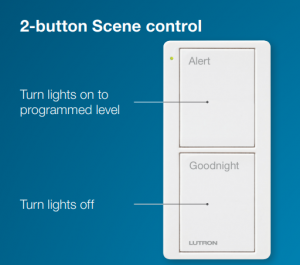 Use the "Goodnight" button to turn lights off and lower shades in other rooms of the house and the "Alert" button to turn hallway lights on and raise living room shades, all without getting out of bed.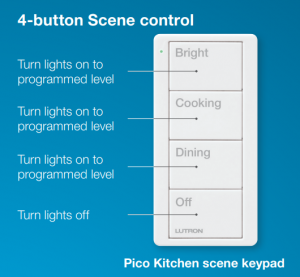 Control all the kitchen lights with a single button press