Celerity Fiber Optic cables feature a detachable connector allowing the fiber optic plug on each end of the fiber optic cable to be very small and easy to prewire through conduit and other concealed spaces.
All Celerity Fiber Optic cables are plenum rated with a bend radius of 5mm for durability and flexibility and available in finished lengths from 35′ to 1000′ and custom special-order 50′ increments between 200′ and 1000′..
Detachable Fiber Optic HDMI
With Celerity Fiber Optic HDMI, a sharp picture and vibrant color is assured up to 1000′ with HDMI High Speed specification support including 4K@60Hz UHD resolution.
The slim Celerity Fiber Optic HDMI cable and Detachable Fiber Optic HDMI connectors easily complete HDMI system connections. Just prewire and connect.
For added flexibility and to provide a professional in-wall finish, Celerity Detachable Fiber Optic HDMI Keystone is available. The Celerity DFO Keystone transmitter and receiving modules easily snap into the supplied keystone wall plates and provide a clean in-wall connection for HDMI.
For connections between the wall plate and transmitting connections, Celerity has created CTK Premium High Speed HDMI with Ethernet cables, and for the connection between the wall plate and the receiving connection CTK Premium High SPeed HDMI+USB 5V Power Cables, for use with the DFO Keystone. These cables ensure 18 Gbps throughput and no loss of picture quality.
Best Picture – 4K@60Hz 4:4:4 Color
Celerity uses sophisticated technology to convert HDMI signals into light. The light travels faster and farther without loss to provide 4K@60Hz UHD signals with 4:4:4 color space. Celerity converts the HDMI electrical signal to light at the source and the light is converted back to electrical signal at the display.
Detachable Fiber Optic DVI
With Celerity Fiber Optic DVI, high-resolution images for signage, display wall media and information displays are provided up to 1000′ with high definition support to 4K@60Hz.
The slim Celerity Fiber Optic cable includes Celerity Detachable Fiber Optic connectors to easily complete DVI connections in just 2 steps, prewire and connect.
A miniature plug is attached to each end of the Celerity fiber optic cable, guaranteeing a perfect connection between the fiber optics and the Detachable DVI connector. The miniature plug protects the fiber optics and internal electronics and allows for a simple and secure connection. The Detachable DVI connector makes prewiring of the fiber optic cable as easy as plug and play.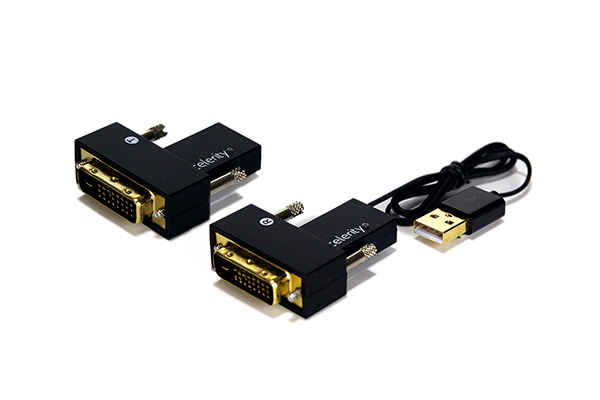 ---
No Fiber Terminations
Celerity Fiber Optic DVI eliminates the need for time consuming and unpredictable fiber terminations. Installations are faster and technicians no longer need costly training and fiber termination tools.
Fiber Optic Plenum Cable
Celerity Fiber Optic DVI cable is plenum rated to support installation in commercial system applications. Celerity Fiber Optic DVI cable is a pure optical fiber cable and is completely free of EMI which makes Celerity a desirable product for cabling systems where cable runs must be near to existing copper cables.
Locking Connector
Celerity Fiber Optic DVI connectors include a unique locking mechanism that slides over the fiber optic cable to provide a secure connection to eliminate connection failures and service calls. Mouse over the image to the right to see the locking mechanism.